EXPO CHGO 2021
Online Exhibition
April 8 – 12, 2021
Talley Dunn Gallery is pleased to participate in the inaugural EXPO Chicago Online, featuring a selection of ten exceptional works in a range of media and scale by Anila Quayyum Agha, Natasha Bowdoin, Gabriel Dawe, Leonardo Drew, Pia Fries, Ori Gersht, Sam Reveles, Erick Swenson, and Xiaoze Xie.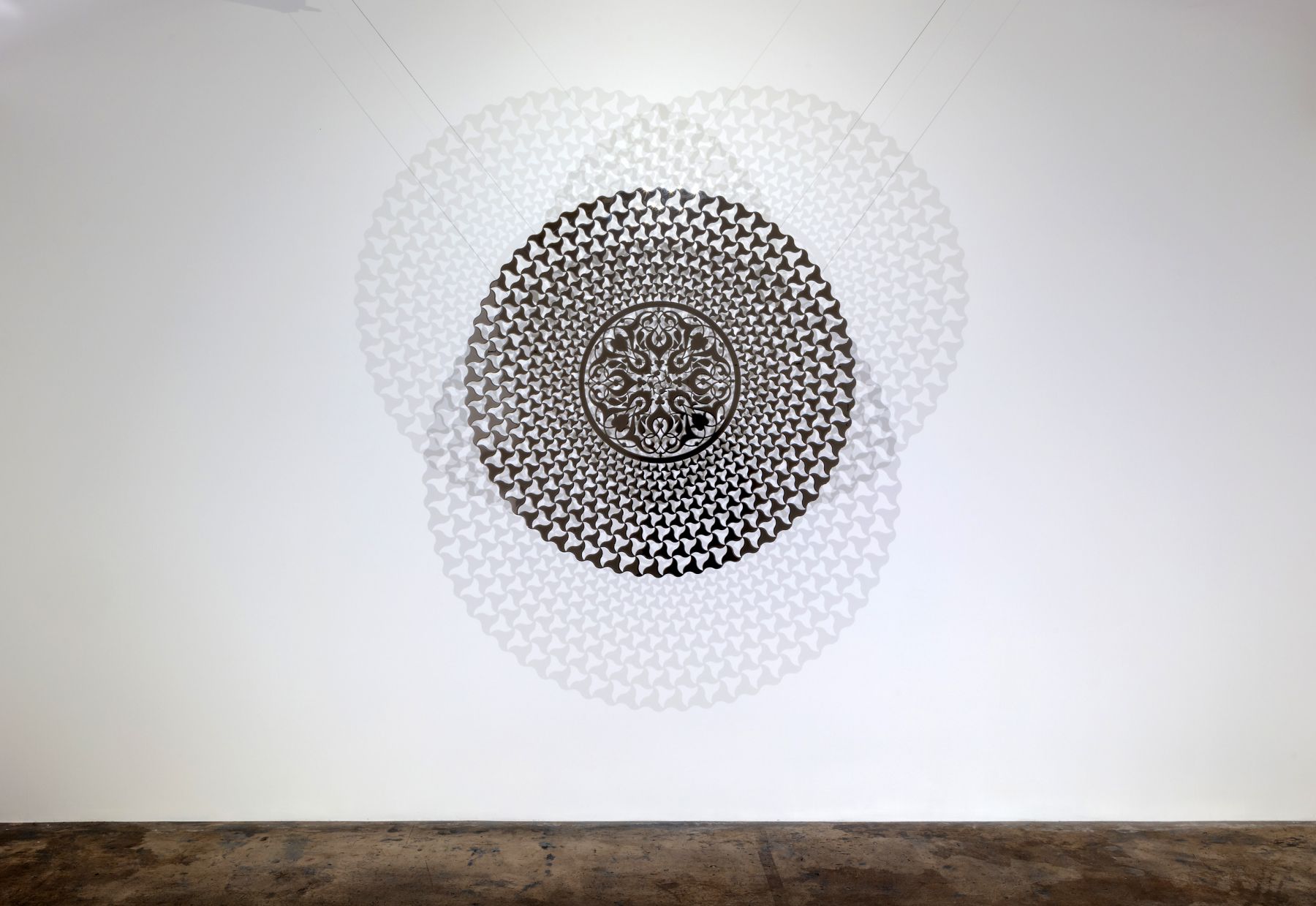 Flight of a Thousand Birds
, 2018
Polished stainless steel
60h x 60w in
Anila Quayyum Agha
(b. Lahore, Pakistan) received her BFA from the National College of Arts, Lahore and an MFA from the University of North Texas. Recent solo shows include the Peabody Essex Museum in Salem, MA, National Sculpture Museum in Valladolid, Spain, The Dallas Contemporary Art Museum, Cincinnati Art Museum, the Museum of Contemporary Art in Jacksonville, FL. Philbrook Museum of Art in Tulsa, and the Toledo Museum of Art in Ohio. For the 2019 Venice Biennale Agha was included in a collateral event, 
She Persists,
 with 22 contemporary feminist artists. Agha has received the Efroymson Art Fellowship, Cincinnati Art Museum's 2017 Schiele Prize, and DeHaan Artist of Distinction Award. Agha's 2014 ArtPrize entry, titled "Intersections", earned the Public Vote Grand Prize and split the Juried Grand Prize in Grand Rapids, Michigan.  In 2017, she was awarded the Glenn W. Irwin, Jr., M.D. Research Scholar Award by Indiana University.  Recently, Agha received an Endowed Chair position titled Professor – Morris Eminent Scholar in Art at Augusta University in Georgia, as well as the prestigious 
Smithsonian Fellowship
 in the arts for 2021 and will be working with both SAAM and AAA in Washington DC in May 2021. Her work has been collected by both institutions and private collectors; nationally and internationally.
In an installment of TDG's Q&A series, Meredith checks in with artist
Natasha Bowdoin
. The two talk Bowdoin's recently finished semester at Rice University in Houston, how she's adjusting to shelter-in-place, creating art with her toddler, her latest projects, and more!
Natasha Bowdoin (b. 1981, West Kennebunk, ME) lives and works in Houston. She is known for her large-scale yet intricate relief installations featuring floral patterns and text. Through her cut paper, collage-based work, Bowdoin investigates the potential intersections of the visual and the literary, channeling the experience of reading into the activity of drawing, while reimagining our relationship to the natural world. Before art school Bowdoin worked as a lobsterwoman for her family in Maine.
Thread and nails on wood
52h x 52w x 4 1/2d in
Talley visits Gabriel Dawe in his studio to discuss Found, the artist's first exhibition at Talley Dunn Gallery. Dawe explains how mental health and restorative trips across the world led him to create his latest puzzle pieces, his approach to creating site-specific installations, and his biggest influences growing up in Mexico.
Gabriel Dawe is a Mexican-Canadian artist whose site-specific installations of multicolored thread create spellbinding chromatic environments that challenge our perceptions of space and color. The artist's work spans a varied spectrum of scale and media from immersive thread installations to tabletop sculptures made of common domestic items.
Born and raised in Mexico City, Dawe has created a practice informed both by his childhood fascination with needlework as well as his frustration with the restrictive gender norms that forbade him access to it as a young boy. Challenging the traditional categorization of textiles within domestic craft, the artist's work weaves together reflections on gender, fashion, and architecture.
Wood and paint chips
24 1/2h x 24 1/2w x 8d in
Enjoy a conversation between Talley Dunn and Leonardo Drew, as well as a behind the scenes look at how his stunning installations come together.
Leonard Drew (b. Tallahassee, Florida, 1961) attended the Parsons School of Design and received his BFA from Cooper Union. Drew creates arresting sculpture, building works up in an additive process from materials whose formal qualities imply prior histories: charred wood, tarnished metals, and bits of cloth and string. His post-minimal installations transform these seemingly inconsequential fragments of material life into powerful abstract forms.
Many institutions have showcased Drew's sculpture in solo exhibitions, including the Madison Square Park Art Conservancy, New York (forthcoming); Crystal Bridges Museum of American Art, Bentonville; the De Young Museum, San Francisco; VIGO, London; Galleria Napolinobilissima, Naples; the Hirshhorn Museum and Sculpture Garden, Washington DC; the Bronx Museum of the Arts, New York; and the Museum of Contemporary Art, San Diego. His work is represented in many prestigious collections including that of the Brooklyn Museum; the Metropolitan Museum of Art; the Miami Art Museum; the Solomon R. Guggenheim Museum, New York; the Sorigue Foundation Collection, Lérida, Spain; the St. Louis Art Museum; and Tate, London.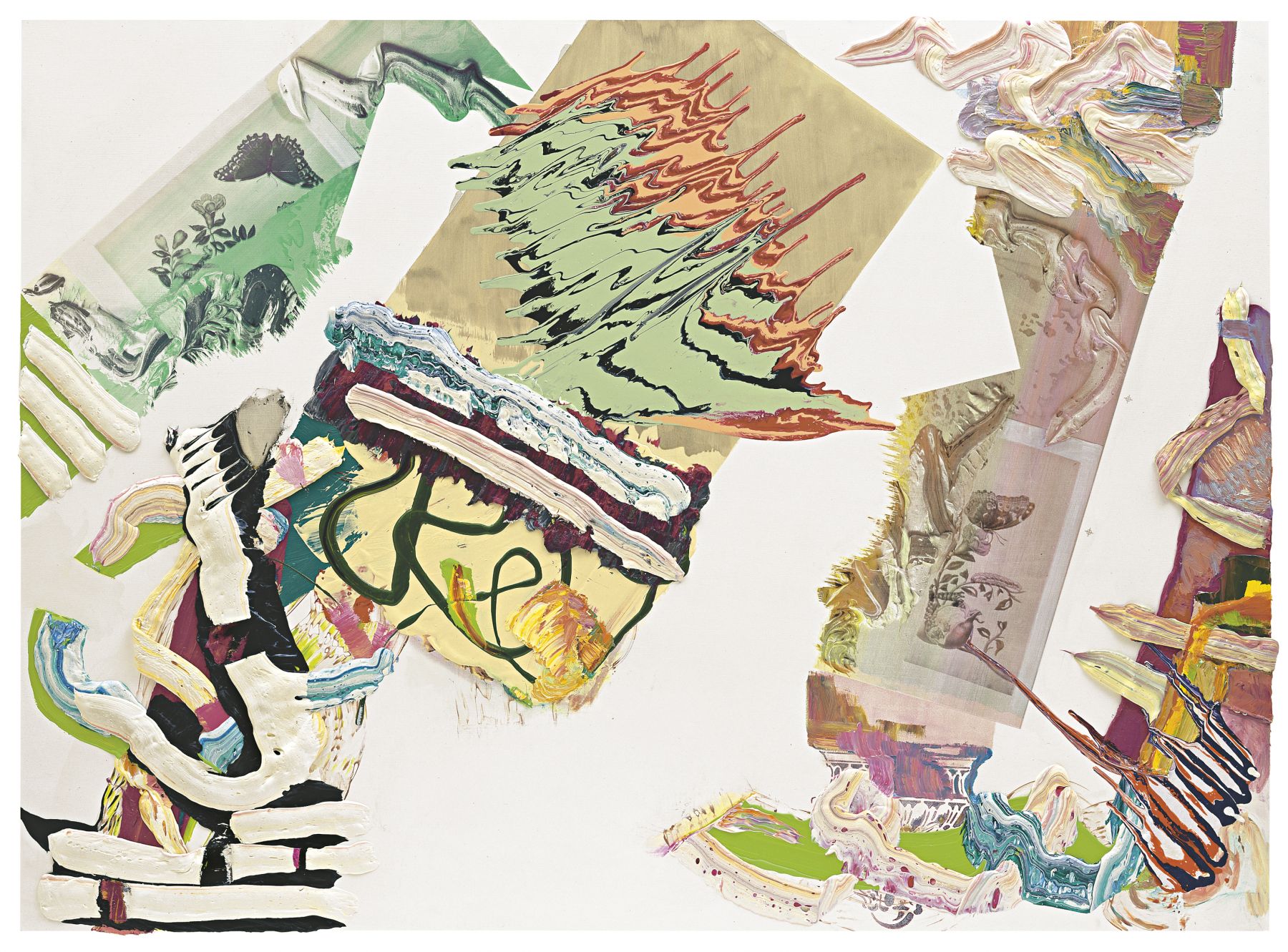 palimpsest surinam 3
, 2005
Oil and silkscreen on wood
48 3/4h x 67w in
Pia Fries was born in Beromünster, Switzerland. She first studied painting at the Lucerne University of Applied Science and Arts under Anton Egloff. Later, Fries studied under Gerhard Richter at the Academy of the Arts, Düsseldorf as a master scholar. She has taught in various capacities at the Lucerne University of Applied Science and Arts, at the Academy of Arts, Karlsruhe, and at the Berlin University of the Arts. Since 2014, she has held a professorship at the Academy of Fine Arts, Munich.
Fries's gestural abstractions incorporate visceral globs of paint, precise washes, and magnified sections of old master etchings in the form of screen prints. Fries allows these elements to float in space, leaving much of her canvas unworked. This allows the eye to explore the various textures and materials, tracing the contours of her gestures. The pristine white ground, and the precise delineation of Fries's abstract marks give them a sense of palpable volume, as if they were filling a three-dimensional space. Thus, Fries turns modernist abstraction inside out: rather than drawing attention to the surface of the support, or the flatness of an abstract composition, her carefully loaded brushstrokes create the impression of volumetric space, molded and compressed by viscous paint, thin washes, and screen-printed fragments of old-master etchings.
In TDG'S latest Q&A series, Meredith checks in with artist
Natasha Bowdoin
. The two talk Bowdoin's recently finished semester at Rice University in Houston, how she's adjusting to shelter-in-place, creating art with her toddler, her latest projects, and more!
Ori Gersht (b. 1967, Tel-Aviv) earned his BFA in Photography, Film & Video from the University of Westminster, London in 1992 and completed his Master of Photography at the Royal College of Art, London in 1995. Gersht's work explores the connection between history, memory, and landscape. His work tends to present exquisite images underscored by darker associations of conflict. A recent trilogy of films in which traditional still-lifes explode in slow motion has received particular renown. Much of his work connects with art historical genres such as the still life and the landscape, and the particular modes of looking that these genres imply.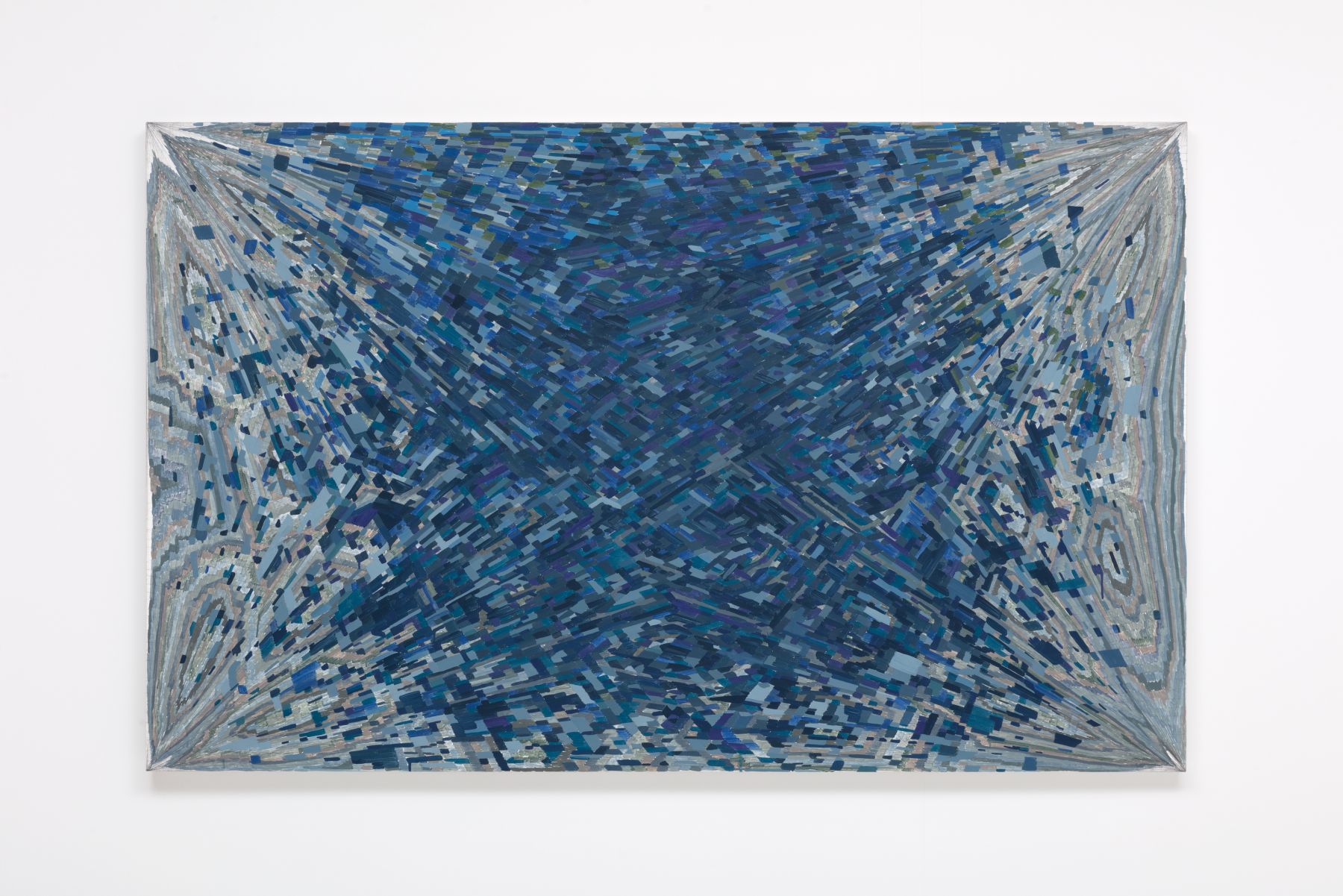 Oil and Pencil on Canvas
48h x 77w in
Sam Reveles (b. El Paso, Texas), earned his M.F.A. in painting from Yale University. Throughout his career, Reveles has explored the expressive possibilities of line and space to create abstract responses to familiar visual stimuli. In the early years, these stimuli were master paintings from the canon of art history. For the past decade, Reveles has drawn inspiration from the landscapes to which he is intimately connected. Over the course of his career, Reveles has participated in many important solo and group exhibitions, such as the prestigious Whitney Biennial in 1995. Most recently, he was featured in a solo exhibition at the Butler Gallery, the non-profit contemporary art space of Kilkenny Castle in Ireland. Reveles has had solo exhibitions at the El Paso Museum of Art; the Saint Louis Art Museum; the Contemporary Arts Museum, Houston; and the Hammer Art Museum in Los Angeles. The artist's paintings are also included in the permanent museum collections of the Whitney Museum of American Art, the Dallas Museum of Art, the Saint Louis Art Museum, the El Paso Museum of Art, and the Centro de Arte Contemporaneo in Mexico City. He was recently awarded a residency at the Ballinglen Arts Foundation in Ballycastle, Ireland. He currently lives and works in County Wicklow, Ireland.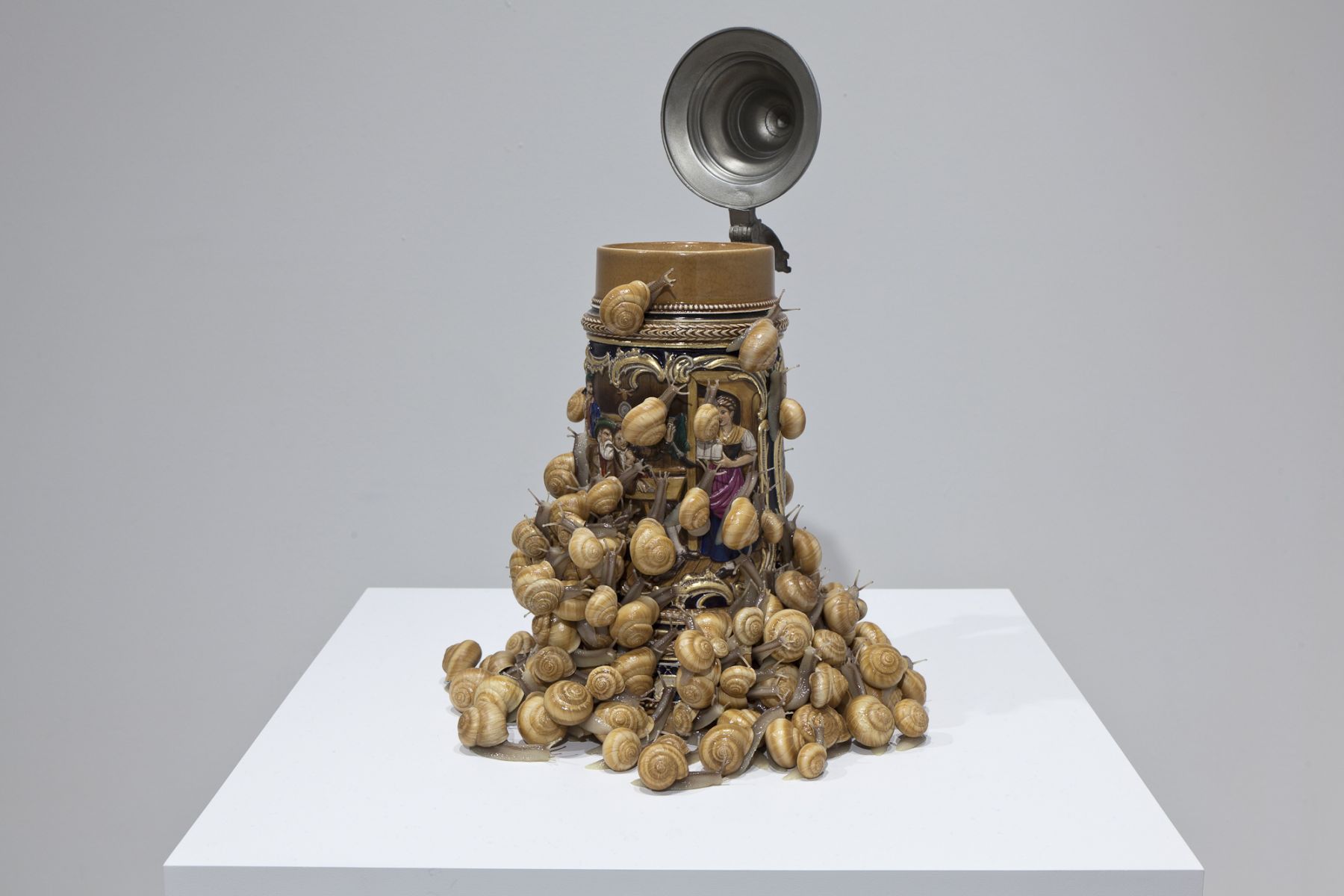 Acrylic on resin, silicone, MDF
45 1/2h x 16w x 16d in
Erick Swenson was born in 1972 in Phoenixville, Pennsylvania and earned his BFA from the School of Visual Arts at the University of North Texas in Denton. Much of Swenson's work uses animal forms to explore themes of vulnerability, loss, and mortality. Due to his meticulous process and skill required to create these works, Swenson's sculptures can take months – sometimes years – to complete. Beyond the initial awe at the objects' making, however, lie poignant narratives that tackle the complexities of human existence.
Swenson gained international recognition when his work was featured in the 2004 Whitney Biennial. Since then, his works have been exhibited at the Institute of Contemporary Art, Philadelphia; the Nasher Sculpture Center, Dallas; UCLA Hammer Museum of Art, Los Angeles; Saatchi Gallery, London; Museum of Contemporary Art, Sydney; and Musée des Beaux Arts, Lausanne, Switzerland; and the Honolulu Museum of Art, Honolulu, Hawaii. His works are in the collections of the Whitney Museum, the Modern Art Museum of Fort Worth, and the Museum of Fine Arts, Houston.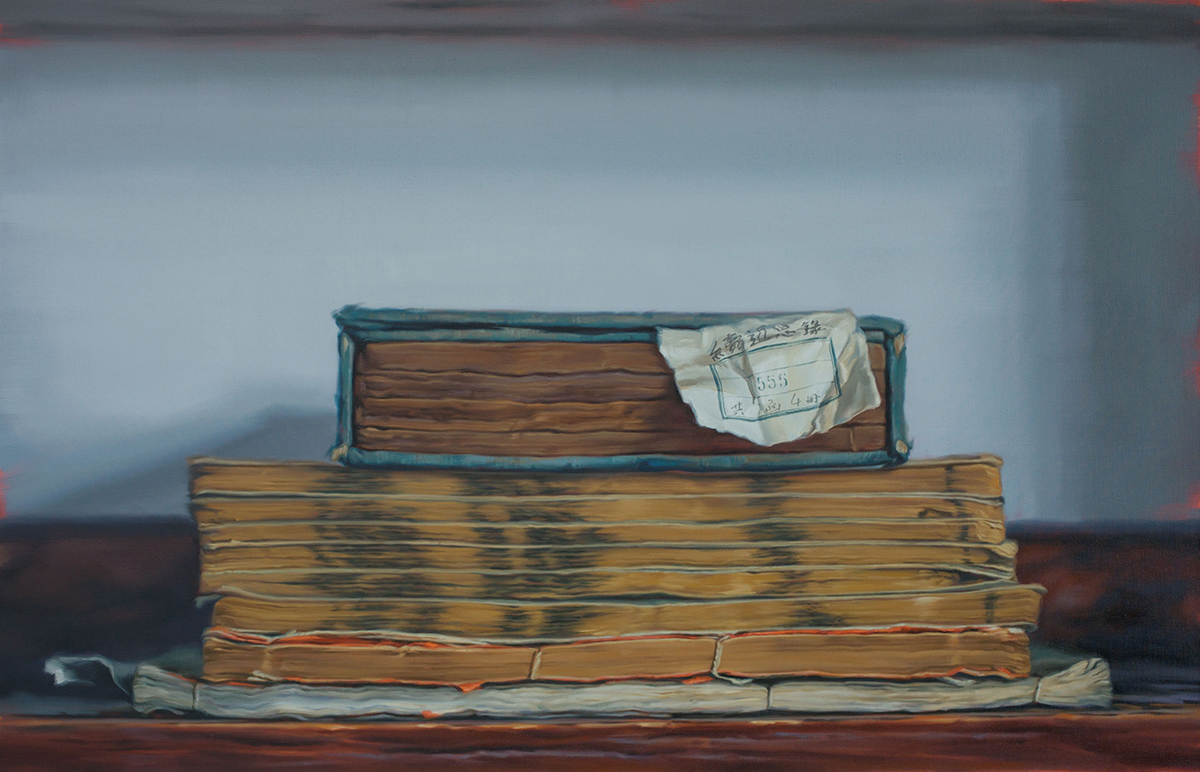 Chinese Library No. 69
, 2019
Oil on linen
48h x 74w in
Xiaoze Xie (b. Guangdong, China) is a representational painter known for his poetic representations of ancient books and manuscripts. Xie immortalizes manuscripts and their contents to stress their continued relevance. His artworks preserve material remnants of our histories, reminding us of what has transgressed. Amidst our heated political climate and the near-relentless stream of information we receive through screens, Xie's captivating paintings and photographs give us pause to stand still and reflect. His work explores issues of memory, the notion of the archive, and knowledge across time. Xie received his Master of Fine Art degrees from the Central Academy of Arts and Design in Beijing and from the University of North Texas. Xie is now the Paul L. & Phyllis Wattis Professor of Art at Stanford University.