Pia Fries was born in Beromünster, Switzerland. She first studied painting at the Lucerne University of Applied Science and Arts under Anton Egloff. Later, Fries studied under Gerhard Richter at the Academy of the Arts, Düsseldorf as a master scholar. She has taught in various capacities at the Lucerne University of Applied Science and Arts, at the Academy of Arts, Karlsruhe, and at the Berlin University of the Arts. Since 2014, she has held a professorship at the Academy of Fine Arts, Munich.
Fries's gestural abstractions incorporate visceral globs of paint, precise washes, and magnified sections of old master etchings in the form of screen prints. Fries allows these elements to float in space, leaving much of her canvas unworked. This allows the eye to explore the various textures and materials, tracing the contours of her gestures. The pristine white ground, and the precise delineation of Fries's abstract marks give them a sense of palpable volume, as if they were filling a three-dimensional space. Thus, Fries turns modernist abstraction inside out: rather than drawing attention to the surface of the support, or the flatness of an abstract composition, her carefully loaded brushstrokes create the impression of volumetric space, molded and compressed by viscous paint, thin washes, and screen-printed fragments of old-master etchings.
Fries has shown in solo exhibitions at the Museum Kunstpalast Dusseldorf; the Lindenau Museum Altenburg; the Kunstmuseum Winterthur; and the Lucerne Art Musuem. Her work is housed in institutions in the United States and Europe, including the Josef Albers Museum, Bottrop; the Detroit Institute of Art; Museum Folkwang, Essen; Niedersächsische Sparkassenstiftung Collection, Hanover; Los Angeles County Museum of Art; Art Museum Lucerne; Musée d`Art Moderne de la Ville de Paris; and the Museum of Contemporary Art, San Diego. She has received numerous accolades and fellowships throughout her career including the Art and Culture Prize of the City of Lucerne in 2014 and the Gernard Altenbourg Prize from the Lindenau Museum Altenburg in 2017.
On-site and Individual Works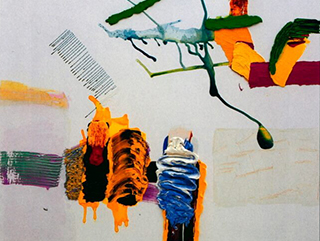 Frozen Gesture: Gesture in Painting – from Roy Lichtenstein to Katharina Grosse
Kunst Museum Winterthur
May 18 – August 18, 2019