​Letitia Huckaby has a degree in Journalism from the University of Oklahoma, a BFA from the Art Institute of Boston in photography, and her Master's degree from the University of North Texas in Denton.
Her work is featured in the 2023 exhibition Emancipation: The Unfinished Project of Liberation, organized by Amon Carter Museum of American Art and Williams College. On view during the 160th anniversary of the Emancipation Proclamation, Emancipation visualizes what freedom looks like for Black Americans today and the legacy of the Civil War in 2023 and beyond. Most recently, Letitia Huckaby was awarded 2022 Texas Artist of the Year with an exhibition of her recent work Bitter Waters Sweet at Art League Houston, along with a publication. This critical body of work explores the legacy of Africatown, the historic community near Mobile, Alabama, its West-African founders, and their descendants, along with the history of the ship that trafficked them to the States in 1860, the Clotilda. In 2020, Huckaby was a Fall 2020 Artist in Residence at ArtPace, where her she debuted And Thy Neighb(our), a series that portrays Black refugees and immigrants from across the diaspora in the vein of Old Master paintings.
Letitia Huckaby has exhibited at Phillips New York, the Tyler Museum of Art, The Studio School of Harlem, the Camden Palace Hotel in Cork City, Ireland, and the Texas Biennial at Blue Star Contemporary Art Museum. Her work is included in several prestigious collections; the Library of Congress, the McNay Art Museum, the Art Museum of Southeast Texas, and the Samella Lewis Contemporary Art Collection at Scripps College in Claremont, California. Huckaby was a featured artist in MAP2020: The Further We Roll, The More We Gain at the Amon Carter Museum and State of the Art 2020 at The Momentary and Crystal Bridges Museum, both opened in the spring of 2020.
On-site and Individual Works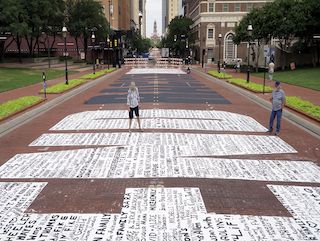 "Fort Worth artists and volunteers paint 'End Racism Now' down Main Street"
by Christian Burno
July 2, 2020