Vernon Fisher was born in Fort Worth, Texas. He received a BA in English literature from Hardin-Simmons University in 1967 and an MFA from the University of Illinois in 1969. Fisher's artistic career began in the 1970s, influenced by the beginnings of postmodern theory. His appropriation of referents from vernacular architecture and pop culture reveal the influence of artists like John Baldessari and Ed Ruscha. Fisher used a wide range of media to create large-scale paintings and installations that imply complex visual narratives. He is known for his blackboard paintings, which employ a slate-gray ground reminiscent of a chalkboard's layered patina. The associations of erased texts and banal classroom moments complement the representational fragments, symbols, and texts that occupy the foreground of these works.
Fisher exhibited in venues across the United States, including at the Contemporary Arts Museum in Houston; the Museum of Contemporary Art, Chicago; the Hirshhorn Museum, Washington, D.C.; the Albright-Knox Art Gallery, Buffalo; and the Modern Art Museum of Fort Worth.
The artist's works are included in the collections of more than 40 museums across the globe, such as the Art Institute of Chicago; the Museum of Fine Arts, Houston; the Museum of Modern Art, New York; the Phoenix Art Museum; the San Francisco Museum of Modern Art; and the Solomon R. Guggenheim Museum, New York.
Additionally, Fisher has received many prestigious awards and fellowships, including the John Simon Guggenheim Fellowship in 1995; the National Endowment for the Arts Individual Artist's Fellowship in 1974, 1980, and 1981. His work was supported by the Louis Comfort Tiffany Foundation in 1984, and he held the title of Regents Professor of Art Emeritus at the University of North Texas in Denton for nearly 30 years. In 1992, Fisher received the Distinguished Teacher of Art Award from the College Art Association. He has had a profound influence on fine arts university programs across the state.
On-site and Individual Works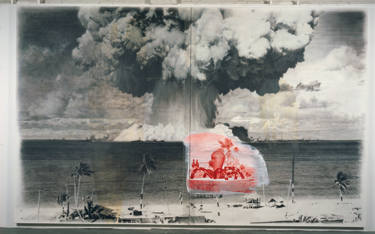 "How Vernon Fisher Came to K-Mart Conceptualism"
by Anthony Mariani
October 27, 2010