Pia Fries
picklock manual
Talley Dunn Gallery
January 12 – March 13, 2021
picklock manual is a solo exhibition showcasing compositionally and chromatically exquisite works by acclaimed Swiss painter Pia Fries.  Fries' seemingly spontaneous gestural paintings are, upon closer examination, prismatic collages of paint and printing techniques.  Rich and vibrant striarated sweeps of impasto leave textured trails of color across the stark white surface of the paintings.  Layers of varied techniques such as screen prints are superimposed over or obscured by other floating elements of line and color.  Consisting of mixed media paintings from interrelated series produced at different points in the artist's career, this exhibition offers a lush look at the artist's continued formal concerns as well as the development of her oeuvre.  Experimenting with notions of the original, the copy, and even with painting itself, Fries' work is a lively investigation of the dynamic possibilities of painterly intervention.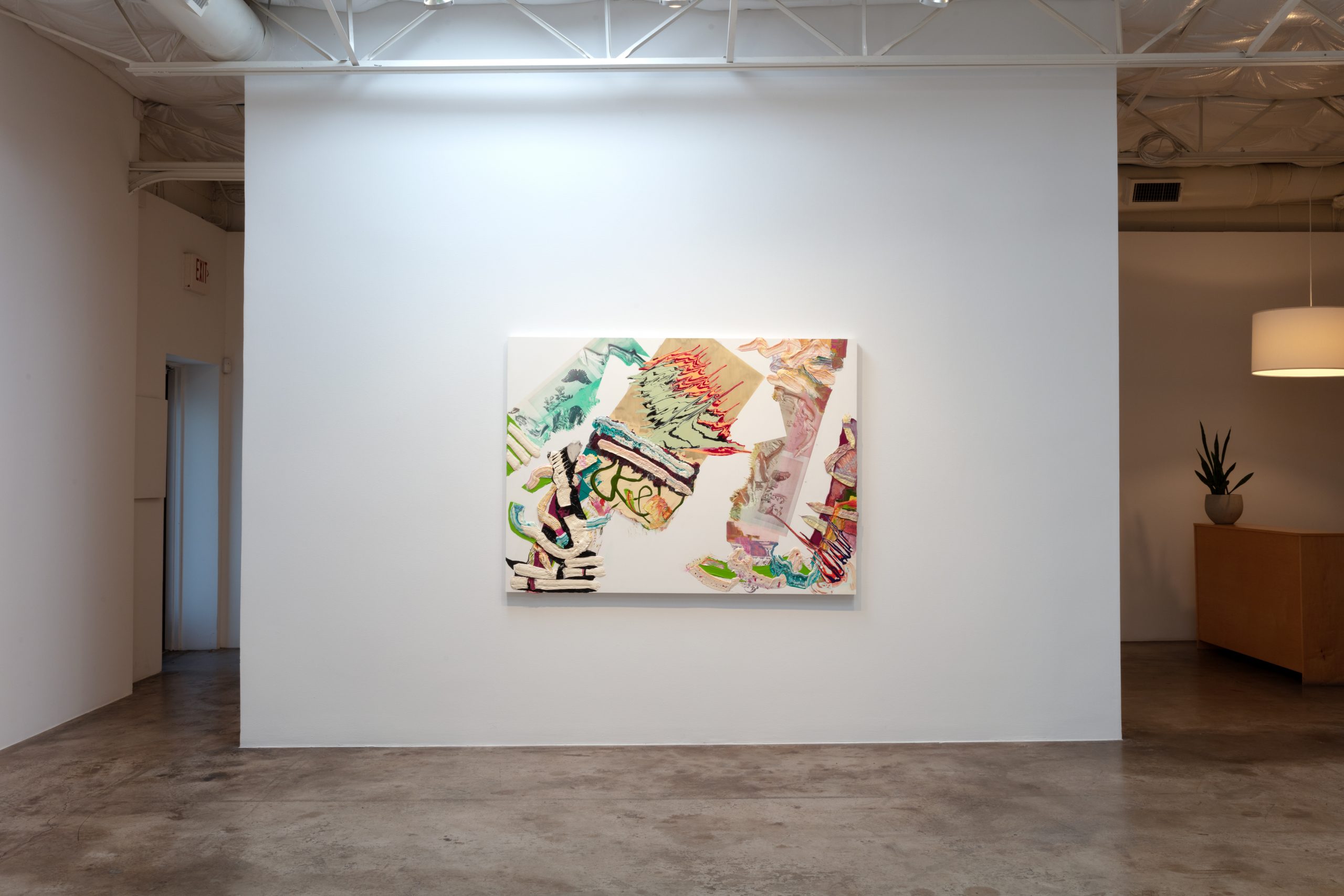 Pia Fries, picklock manual, 2020, Installation view, Talley Dunn Gallery
The artist's numbered series in the exhibition is based on the concept of the relict, which is defined by Merriam–Webster as, "a surviving species of an otherwise extinct group of organisms."  Here, Fries' "relict" is a photographed rectangular detail from one of her own pre-existing paintings that she replicated onto wooden panels with silkscreen.  Focusing on texture, she invented new colorings for each iteration in the series, not once reproducing any part of the relict's original color.  The artist describes the process inherent in the contrast between the flat surface of the silkscreened photograph and her overlaying painterly marks as, "giving the paint a physical body."  The title of each painting, pp., refers to "perge, perge," gesturing to that which never ends.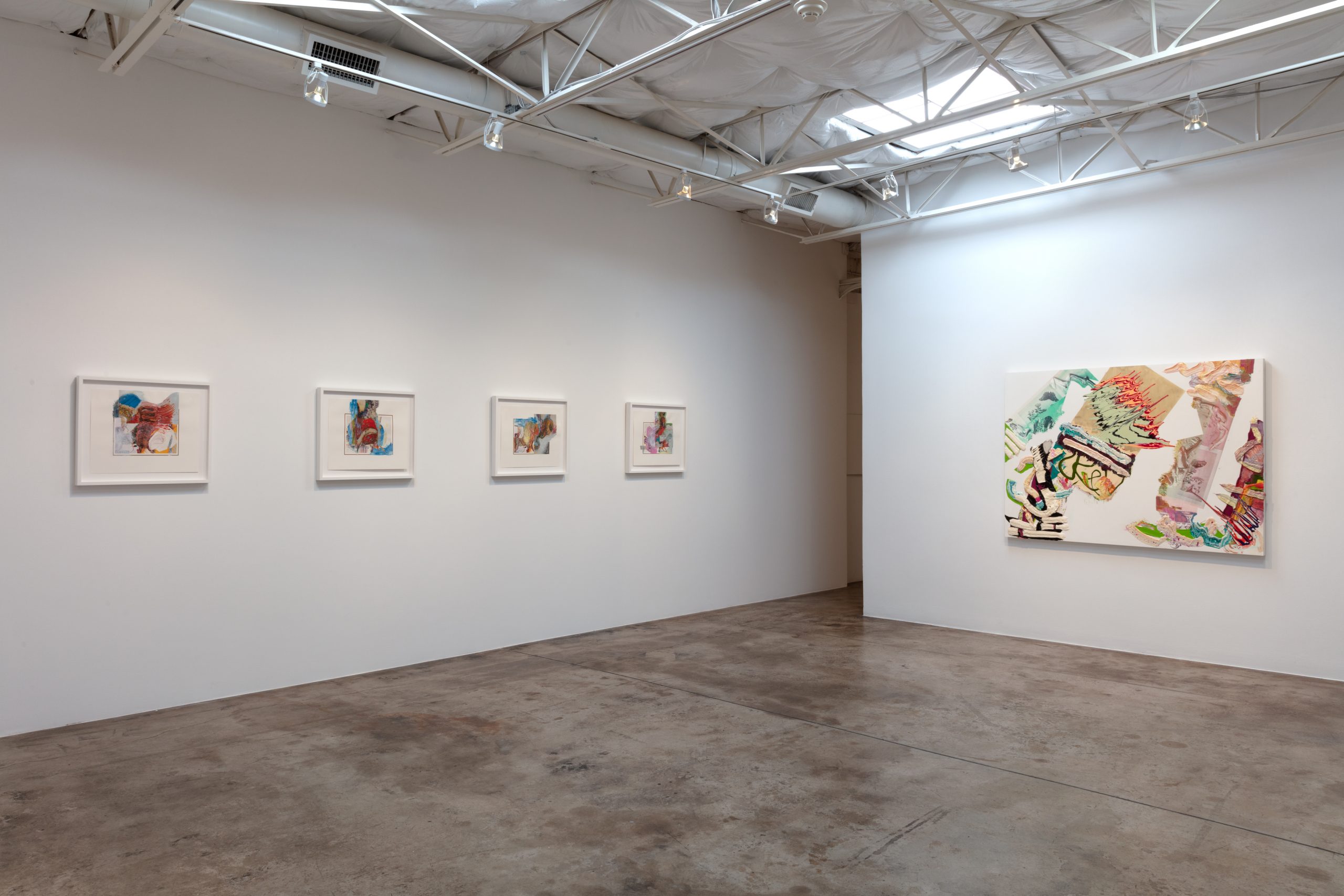 Pia Fries, picklock manual, 2020, Installation view, Talley Dunn Gallery
Pia Fries was born in Beromünster, Switzerland. She first studied painting at the Lucerne University of Applied Science and Arts under Anton Egloff.  Later, Fries studied under Gerhard Richter at the Academy of the Arts, Düsseldorf as a master scholar.  She has taught in various capacities at the Lucerne University of Applied Science and Arts, at the Academy of Arts, Karlsruhe, and at the Berlin University of the Arts.  Since 2014, she has held a professorship at the Academy of Fine Arts, Munich.
Fries has shown in solo exhibitions at the Museum Kunstpalast Dusseldorf; the Lindenau Museum Altenburg; the Kunstmuseum Winterthur; and the Lucerne Art Musuem.  Her work is housed in institutions in the United States and Europe, including the Josef Albers Museum, Bottrop; the Detroit Institute of Art; Museum Folkwang, Essen; Niedersächsische Sparkassenstiftung Collection, Hanover; Los Angeles County Museum of Art; Art Museum Lucerne; Musée d`Art Moderne de la Ville de Paris; and the Museum of Contemporary Art, San Diego.  She has received numerous accolades and fellowships throughout her career including the Art and Culture Prize of the City of Lucerne in 2014 and the Gernard Altenbourg Prize from the Lindenau Museum Altenburg in 2017.