Gabriel Dawe
Found
Talley Dunn Gallery
September 22 – November 7, 2020
Talley Dunn Gallery is honored to announce Found a solo exhibition of internationally acclaimed Mexican-Canadian artist Gabriel Dawe.  Celebrated for his site-specific installations of multicolored thread, the artist's work spans a varied spectrum of scale and media from immersive chromatic installations to tabletop sculptures made of common domestic items.  Found is Dawe's first exhibition with the gallery.  Featuring nine monochromatic puzzle piece works from his Missing series that are covered in 24 karat gold leaf, the exhibition is intimate in scale but profoundly rich in substance.  Dawe describes the series as a deeply personal metaphor for life.  Celebrating perfection in imperfection, the artist's puzzle pieces embody the human condition and ongoing strivings toward self that come to pass piece by piece.
Dawe's works ask viewers to humbly acknowledge and embrace the parts of themselves that are "missing" for the spaces left by lost pieces serve as buoyant grounds for self-discovery and exploration.  In their exquisiteness and vivid relevance to serious interrogations of self, Dawe's works also irresistibly leave viewers with a sense of play, suggesting that we might do well to take the complexities of life and being in stride.
Each work is an incomplete jigsaw puzzle that celebrates states of partiality and imperfection.  While the puzzle pieces gleam in uniform gilded splendor, they range in scale and design.  Some neatly fit together in tightly packed systemic columns and rows.  Others have larger heterogenous shapes.  Missing No. 4 features pieces with intelligible designs of an airplane, dog, and bird.  Despite their treatment in gold leaf, the puzzle pieces' blemishes remain preserved in bent corners and raised nodes that mark the work's otherwise neat surface.  Made from found puzzles that were intentionally sourced for their missing pieces, Dawe's works call out to their prior lives in people's homes, between children's hands, and scattered on living room tables.  The imperfect puzzles and their marked histories are wrapped in gold to be heralded as art.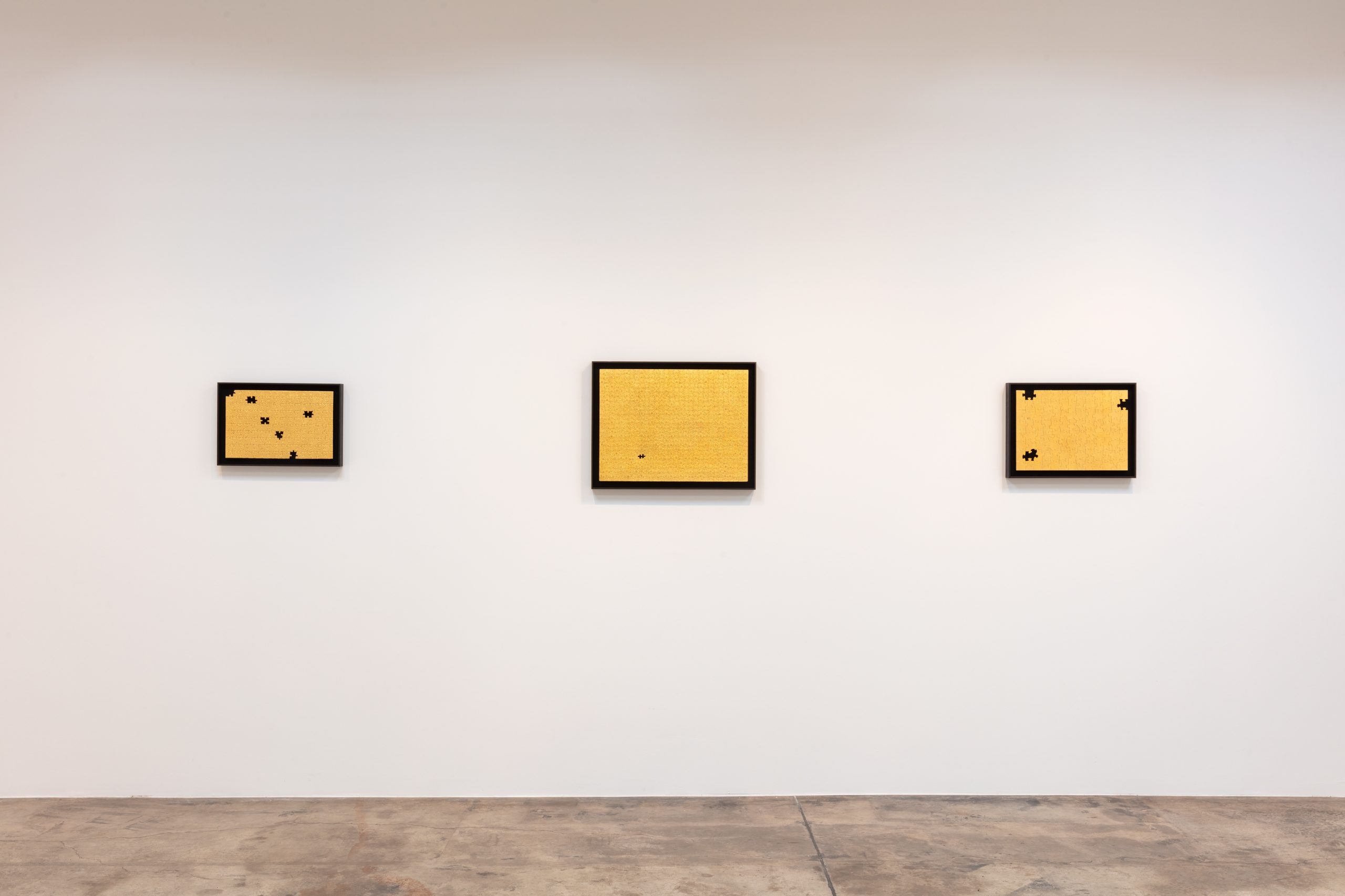 Gabriel Dawe, Found, 2020, Installation view, Talley Dunn Gallery
Dawe received an MFA from the University of Texas at Dallas where he currently lives and works. His work has been exhibited at institutions such as the Crystal Bridges Museum of American Art, Bentonville, AR; Courtauld Institute, London, U.K.; the U.S. Consolute in Monterrey, Mexico; Renwick Gallery, Smithsonian American Art Museum, DC; and Museum Rijswijk, the Netherlands. Dawe has had solo exhibitions at the Toledo Museum of Art, OH; Amon Carter Museum of American Art, Fort Worth, TX;  The National Centre for Craft and Design, Lincolnshire, UK; Newark Museum, NJ; Brighman Young University Museum of Art, Provo, UT; Blue Star Contemporary Art Museum, San Antonio, TX; and The Luminary Arts Center, St. Louis, MO to name a few. Dawe's work has been collected by the Amarillo Museum of Art, TX; Crystal Bridges Museum of American Art, Bentonville, AR; Long Beach Performance Art Center, CA; Newark Museum, NJ; SCAD Museum of Art, Savannah, GA; University of Texas at Dallas and the U.S. State Department.