Francesca Fuchs
Francesca Fuchs at the Suburban at the OJAC
The Old Jail Art Center
September 17, 2022 – January 28, 2023
Houston artist Francesca Fuchs seeks to understand an ordinary object or another painting by…painting it. Her depictions are not verbatim, but appear as ghostly doppelgängers created in thin veils of pigment on canvas. Most often, the painted object is one that Fuchs has a personal connection to or that is from her childhood home. She may choose to paint a framed photo of a 1960s dental office, a lady bug rock she created as a child, a framed Piranesi print, or a sculpture of a reclining figure.
For Fuchs' exhibition Francesca Fuchs at The Suburban at the OJAC, she painted "objects and paintings she did not know in person for the first time," and instead focused on works in the OJAC's permanent collection. Perusing some 2,300 digital images on the museum's online database, Fuchs sought other artists' works that inspired her. Surprisingly, her intuitive choices were, more often than not, works that often garner less attention than the more "significant" works by any particular artist. Destined to be the subjects of her re-making, her selections are indicative of her attention to things we often dismiss or deem insignificant in aesthetic hierarchal systems.
Read more here.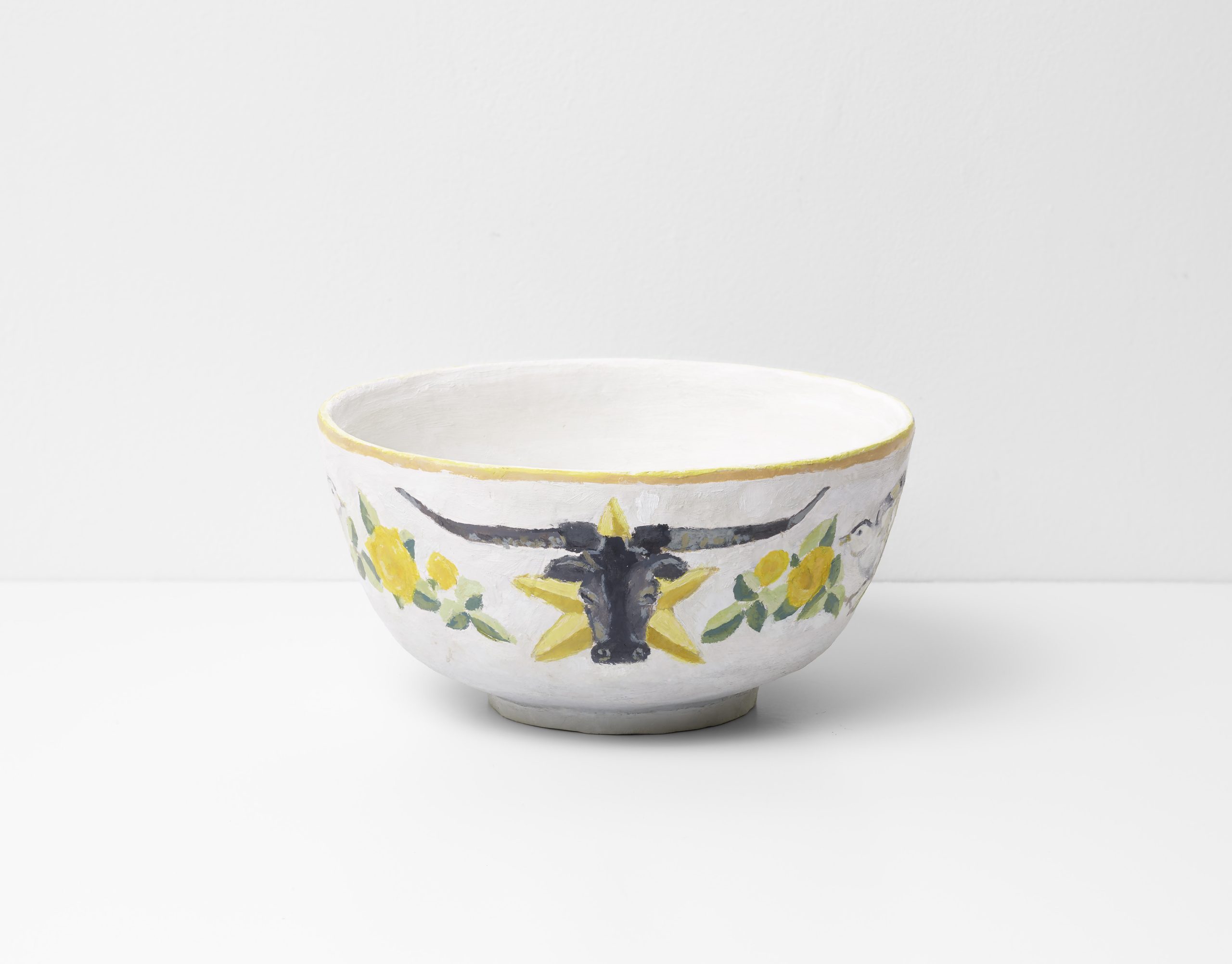 Texas Sesquicentennial Bowl
, 2022
Oil paint over fired ceramic
4h x 7 3/4w x 7 3/4d in
Francesca Fuchs, born in London, grew up in Münster, Germany. She earned her BFA at the Wimbledon School of Art in London, and later studied under Tony Cragg at the Kunstakademie Düsseldorf. Fuchs makes paintings that consider closely the overlooked intimacies that shape our lives, giving careful attention to family relationships, objects of the everyday, quiet moments, and what art offers when it enters our personal spaces. This subtle gesture of careful connection underscores her rigorous investigation into the significance and traditions of painting.
The artist came to Houston in 1996 for the Museum of Fine Art Houston's prestigious two-year residency, the Core Program. She is now 2D Department Head at the Glassell School of Art, Museum of Fine Arts, Houston. Fuchs has exhibited in institutions throughout the United States and in Europe, including at Whitechapel Art Gallery, London; the Fort Worth Museum of Modern Art; the Contemporary Arts Museum Houston; Collective, Edinburgh; Art League Houston; the Galveston Arts Center; and the Fayerweather Gallery at the University of Virginia, Charlottesville. Fuchs' work is part of the permanent collection at the Museum of Fine Arts, Houston, and numerous private collections. She has received two Artadia Awards, four individual artist grants through the Houston Arts Alliance and the City of Houston, and the Hunting Art Prize. Fuchs was the 2017 Josephine Mercy Heathcote Fellow at the MacDowell Colony, and Art League Houston's 2018 Texas Artist of the Year.