Leonardo Drew | September 15 – December 15, 2020
Leonardo Drew is a comprehensive exhibition that spans the full length of the newly renovated main galleries and surveys the most recent years of the artist's career.
Spanning the full length of the newly renovated main galleries, Leonardo Drew marks the artist's third solo exhibition with the gallery.  Comprehensive and ranging in both media and scale, the exhibition offers a survey of the most recent years of the artist's career.  Transforming the white walls of the gallery into an undulating abstract landscape of commanding and rigorous compositions, Leonardo Drew's wall-mounted sculptures invigorate the space with the power of their presence.  Mesmerizing and complex, thousands of seemingly worn scraps of wood, cotton, and plaster evoke the passage of time, nature's never ending cycle of decay and regeneration.
Drew's assemblages are at once intensely intricate and incomprehensibly vast. Jutting tree branches and roots project into the space of the viewer. Densely layered matt black and vibrantly colored fragments cohere in the realm of the transcendental. Despite appearing found, Drew's materials are all created intentionally, manipulated by Drew's hand in his Brooklyn studio where he attentively cuts, washes, and builds. The artist laboriously works on the verge of the man-made and natural, representation and abstraction, history and present, life and death.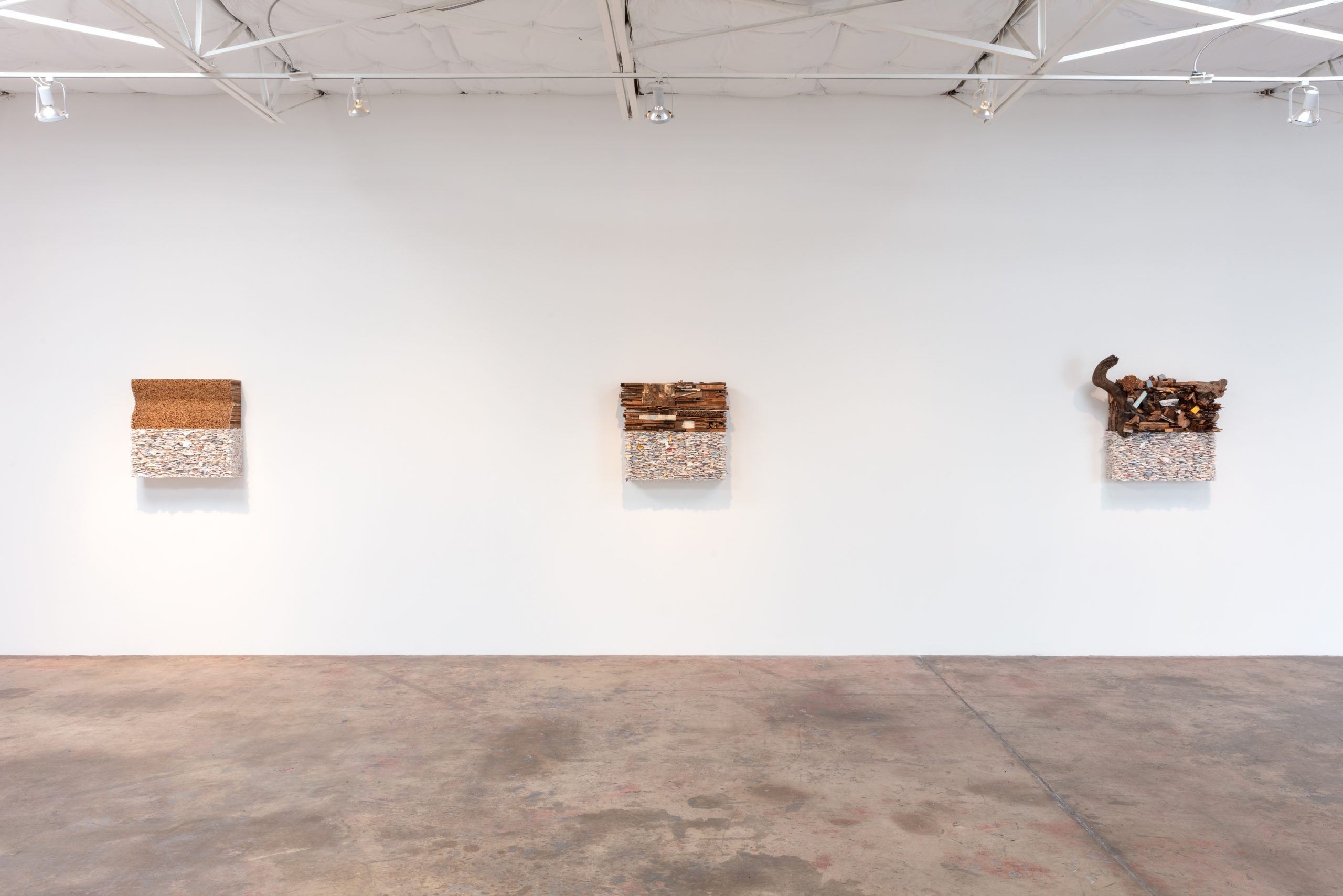 Leonardo Drew, 2020, Installation view, Talley Dunn Gallery
Leonard Drew (b. Tallahassee, Florida, 1961) attended the Parsons School of Design and received his BFA from Cooper Union. Drew creates arresting sculpture, building works up in an additive process from materials whose formal qualities imply prior histories: charred wood, tarnished metals, and bits of cloth and string. His post-minimal installations transform these seemingly inconsequential fragments of material life into powerful abstract forms.
Institutions that have showcased Drew's sculpture in solo exhibitions include the Hammer Museum, Los Angeles; Madison Square Park Art Conservancy, New York; North Carolina Museum of Art, Raleigh; Crystal Bridges Museum of American Art, Bentonville; the De Young Museum, San Francisco; VIGO, London; Galleria Napolinobilissima, Naples; the Hirshhorn Museum and Sculpture Garden, Washington DC; the Bronx Museum of the Arts, New York; and the Museum of Contemporary Art, San Diego. His work is represented in many prestigious collections including that of the Brooklyn Museum; the Metropolitan Museum of Art; the Miami Art Museum; the Solomon R. Guggenheim Museum, New York; the Sorigue Foundation Collection, Lérida, Spain; the St. Louis Art Museum; and Tate, London.