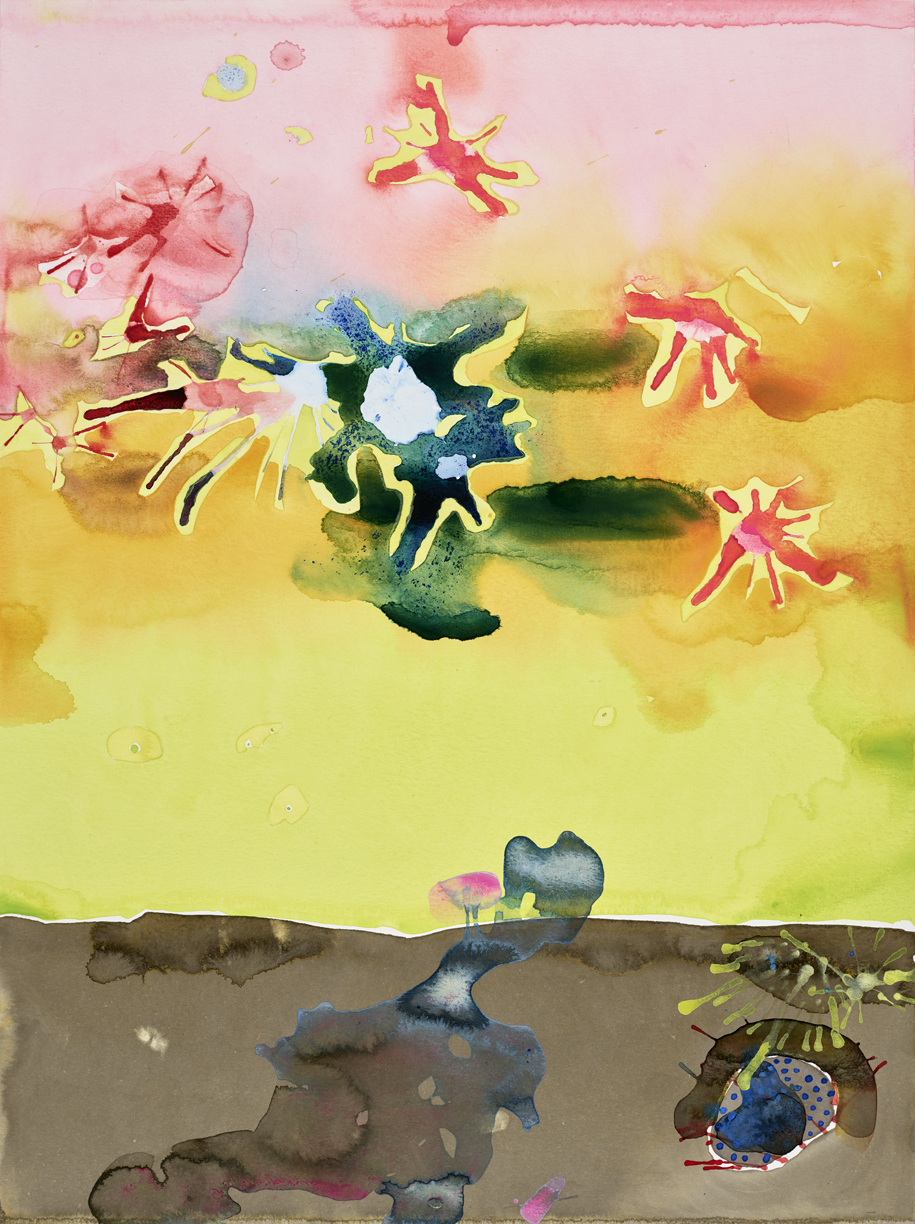 Sumi ink and watercolor on paper
24h x 18w inches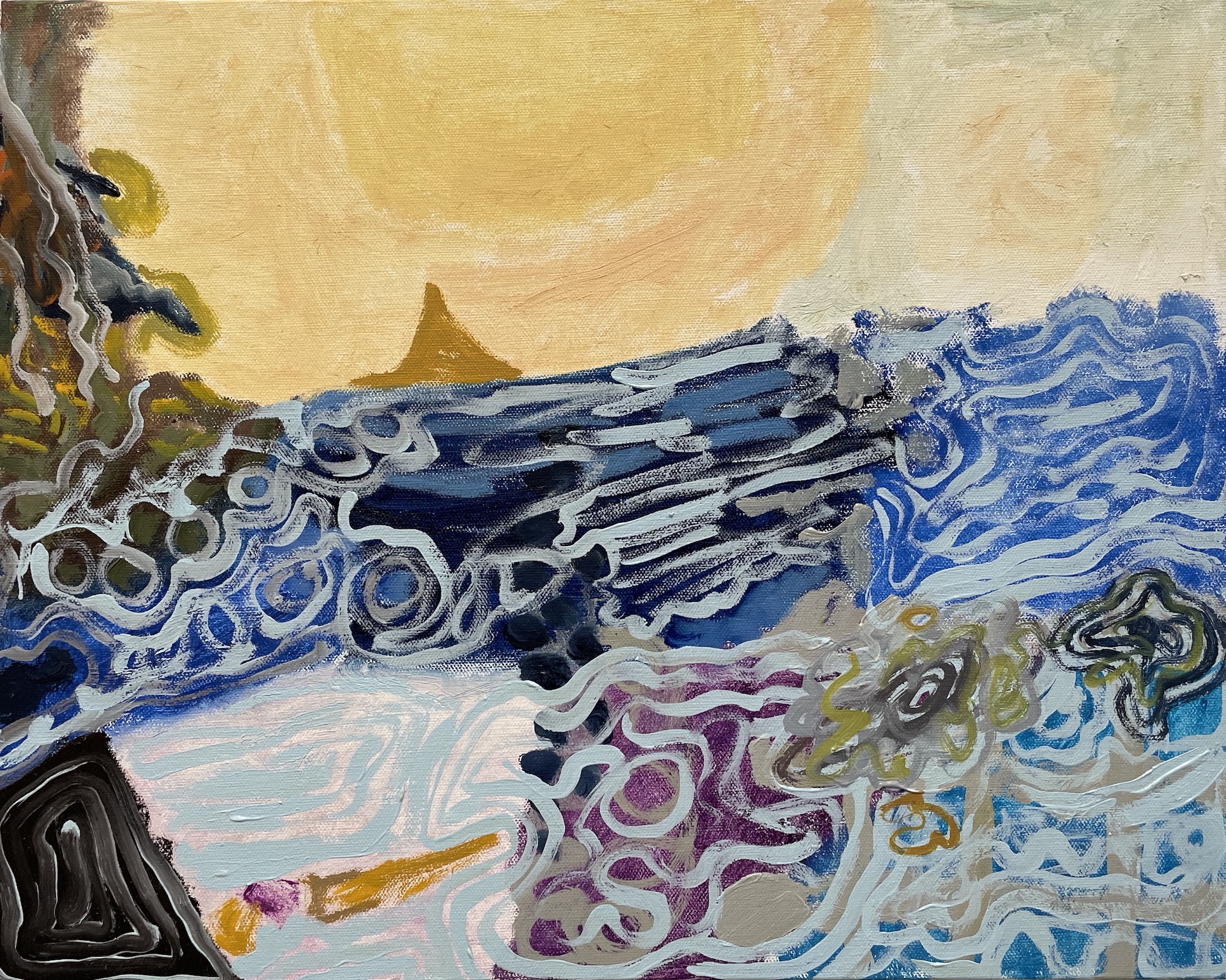 Oil on canvas
16h x 20w inches
For three decades Eva Lundsager has been making abstract paintings structured as an imagined, changing space; paintings that evoke expansiveness and a sense of watchful waiting.  Imagery simultaneously specific and indeterminate suggests life forms moving through atmosphere, over a planet's surface, and deep into solid ground. The paintings are built of varied processes of paint application; layers of pours, drips, glazes, and brushstrokes, and they use complex color, at times seductive, at other times alienating.  Painted marks become animated forms, unknown but on the edge of recognition.  Lundsager's work suggests unfamiliar places seen mid-transition as events of indeterminate consequence unfold.
Born in Buffalo and raised in Maryland, Lundsager grew up wandering her semi-rural surroundings.  She received a BA in art from the University of Maryland, studying with artists Sam Gilliam, Anne Truitt, Claudia DeMonte and Nick Krushenick, and writer and theorist Jack Burnham.  She moved to New York in 1985 to attend the MFA program at Hunter College, working with painters Ralph Humphrey, Marcia Hafif, and Susan Crile, art critic and historian Rosalind Krauss, and ceramicist and writer Susan Peterson.  Simultaneous to her MFA pursuit she was the registrar for the ground-breaking Gracie Mansion Gallery in the East Village, getting a parallel education from owners Gracie and Sur Rodney (Sur), and artists Judy Glantzman, David Wojnarowicz, Al Hansen, Peter Hujar, Hope Sandrow, Stephen Lack and others.  After sixteen years in New York, she lived a decade in Saint Louis, Missouri, where she spent a fair amount of time watching the quickly changing sky; compelling, beautiful, and occasionally frightening.  Since 2012 she has lived and worked in Boston.
An early group exhibition at alternative art space White Columns, New York, was soon followed by her first solo outing at the Stephanie Theodore Gallery.  Subsequent solo gallery exhibitions were held at the Jack Tilton Gallery, Von Lintel Gallery in Munich, Elizabeth Koury Gallery, Lauren Wittels Gallery, Greenberg Van Doren Gallery, and Van Doren Waxter.
Recent group exhibitions of note include American Genre, curated by Michelle Grabner, at the ICA in Portland, Maine, and Outside the Lines, a survey of contemporary abstract painting, curated by Bill Arning at the Contemporary Art Museum in Houston.  Recent solo exhibitions include Liquid Terrain, 20 Years of Works on Paper by Eva Lundsager at the Sheldon Art Galleries in Saint Louis; Other Light Other Night at Van Doren Waxter, and Elsewhere: Eva Lundsager at the Academy Art Museum in Easton, MD, where her show was adjacent to an exhibition of the art of her former teacher Anne Truitt.
Lundsager's work has been included in many exhibitions, and has been the subject of a number of reviews and articles.  Publications on her work include Ascendosphere by Regency Art Press, Eva Lundsager: New Paintings and Works on Paper by Greenberg Van Doren Gallery, and Other Light Other Night by Van Doren Waxter. Her work is in the permanent collections of the Dallas Art Museum, the Nerman Museum of Contemporary Art, the Saint Louis Art Museum, and the Whanki Foundation in Seoul, among others, and she has been honored with a Guggenheim Fellowship in Painting.
On-site and Individual Works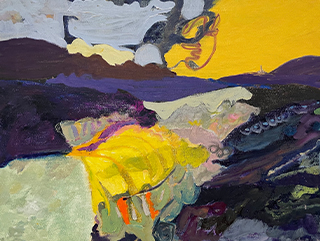 Threads That Bind: Elucidating Diverse Voices of Womanhood 
Daum Museum of Contemporary Art
February 25 – July 30, 2023