2023 Talley Dunn Gallery Equity in the Arts Fellowship Exhibition:
Ciara Elle Bryant, Enrique Nevárez, Tina Medina
Talley Dunn Gallery
July 8 – August 12, 2023
2023 TDG Equity in the Arts Fellowship: Ciara Elle Bryant, Tina Medina, Enrique Nevárez, 2023, Installation View, Talley Dunn Gallery
Ciara Elle Bryant is an interdisciplinary artist working with photography, new media, video, and installations. Bryant chooses to discuss Black culture and Blackness by focusing on how identity and heritage exist in the new millennium. Bryant approaches this task through her intensive research practice, which is integral to her process of furthering conversations surrounding Black culture in art as well as historical studies. Bryant is currently residing in Dallas, TX and holds a Masters of Fine Art from Southern Methodist University.
Bryant's work has been presented widely in solo and group exhibitions, including Negative Women: Four Photographers Questioning Boundaries, Houston Museum of African American Culture, Houston, TX (2022); Server: Checks on the Block, SXSW, Austin, TX (2022); Icons, Denton Black Film Festival, Denton, TX (2021); and Server: A Streamed Revolution, Nasher Sculpture Center, Dallas, TX (2020).
2023 TDG Equity in the Arts Fellowship: Tina Medina, 2023, Installation View, Talley Dunn Gallery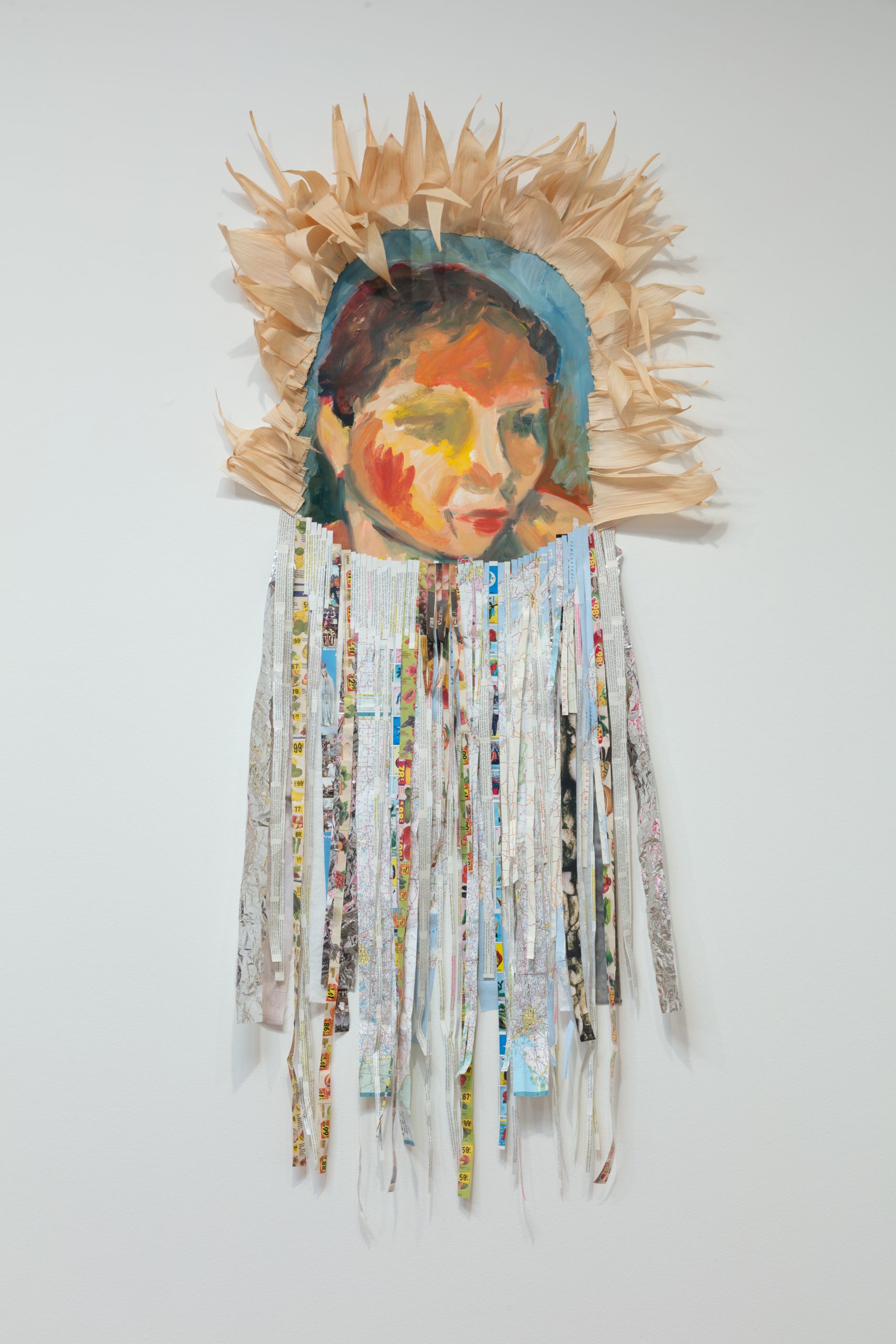 Ancestra poderosa de las fronteras (Powerful ancestor of the borders)
, 2022
Oil on paper, cornhusks, found papers, fabric, mylar
72h x 36w inches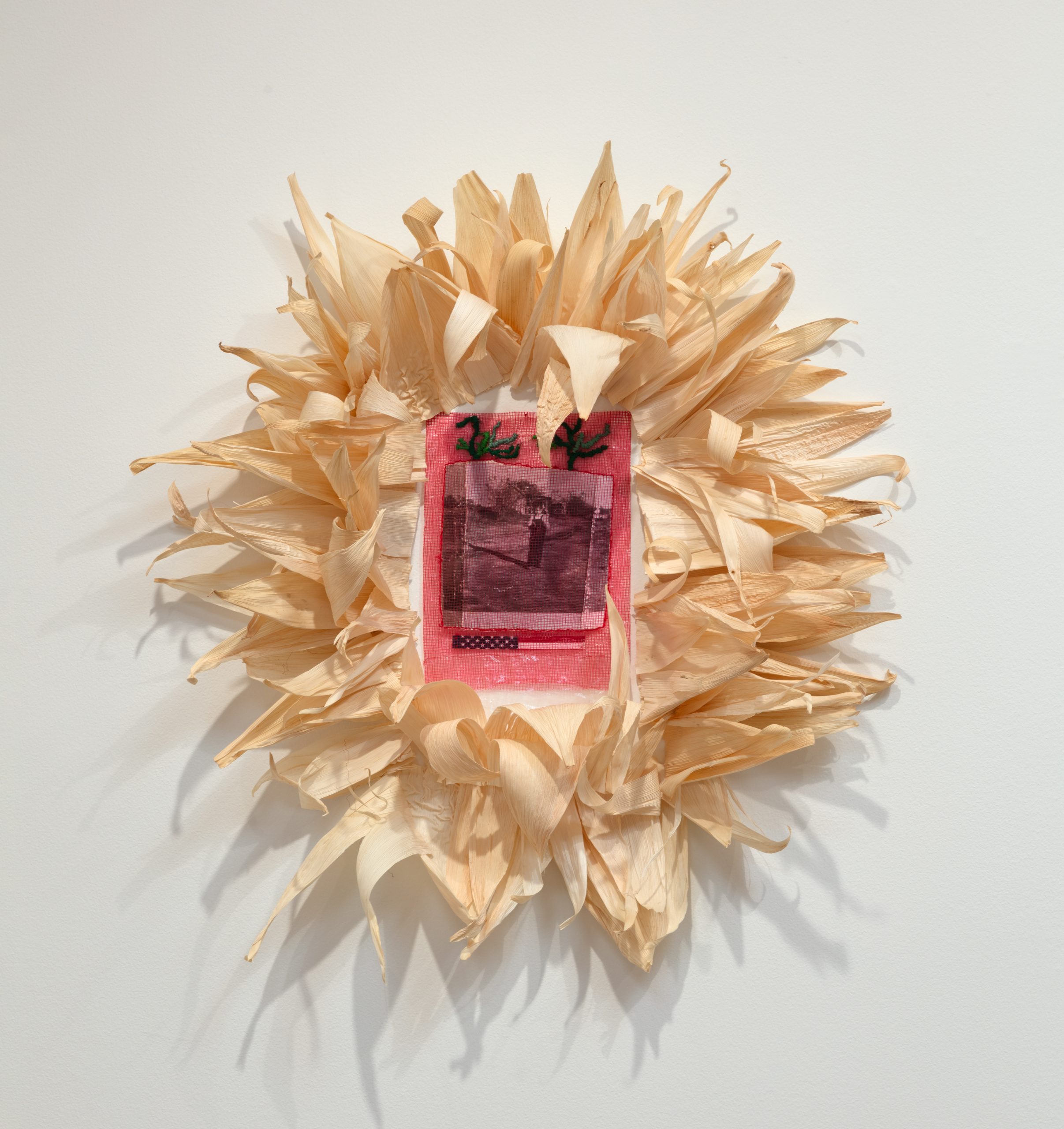 chiquiteo jugando cerca de los campos/ boy playing near the fields
, 2023
Corn husks, produce bag, thread, photo, remnant of flag
Dimensions variable
 Tina Medina is an artist, educator, and curator living in Dallas, Texas. Originally from West Texas, Medina earned her Bachelor of Fine Arts degree at Texas Tech University and Master of Fine Arts degree at the University of North Texas. Since 2006 Medina has served as a full-time professor of art at Dallas College.
Medina's art has been exhibited nationally in exhibits such as Immigration, Migration, Movement & The Humanities at Arizona State University, as well as Strive: An Exhibition Highlighting American Immigration & the American Dream, D'Art Center, Norfolk, Virginia. In 2021 her work was featured in Arte Latino Now 2021, a virtual exhibit for the Center for Latino Studies at Queens University Charlotte in NC, and the Changarrito Artist of the Month for Mexic-Arte Museum in Austin, Texas. Most recently Medina exhibited her work in solo exhibitions at the Norman Brown Gallery, Goldmark Cultural Center, and at Epic Gallery in Grand Prairie. In 2022, she created a community-based solo art exhibit at Arts Mission Oak Cliff and had a solo retrospective exhibition at the Latino Cultural Center of Dallas. 
Through an exploration of fibers, painting, video, and audio Medina's art reflects U.S. American history from the point of view of the underrepresented voices in our communities such as people of color, farm, and domestic workers, the undocumented and women and children.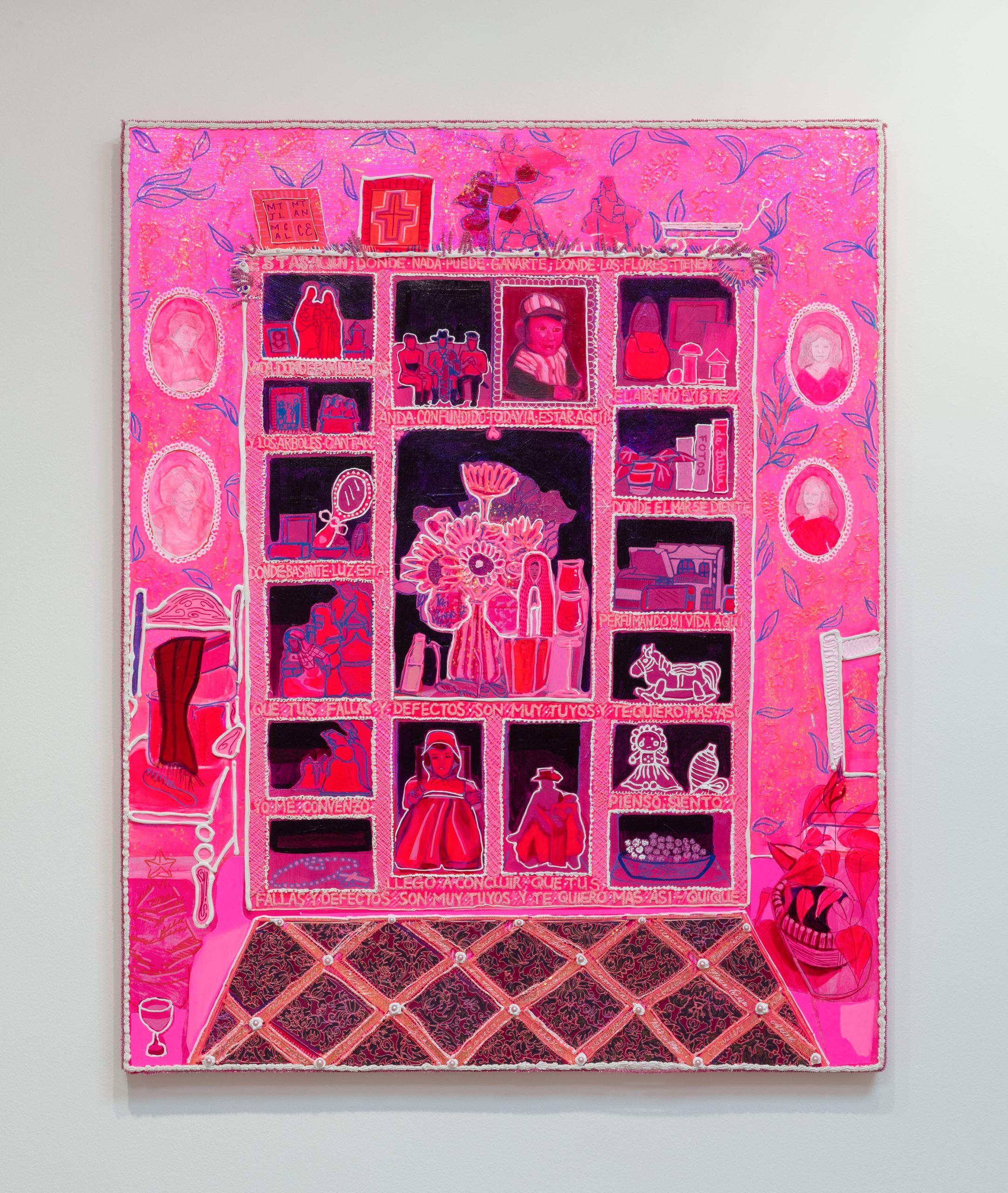 Estas Aqui (You're Here)
, 2022
Acrylic, polylatic acid , beads, pouring medium, marker, glitter, loose glitter, caulk, molding paste, pencil, paper collage, pipecleaners, rhinestones, panel
60h x 48w inches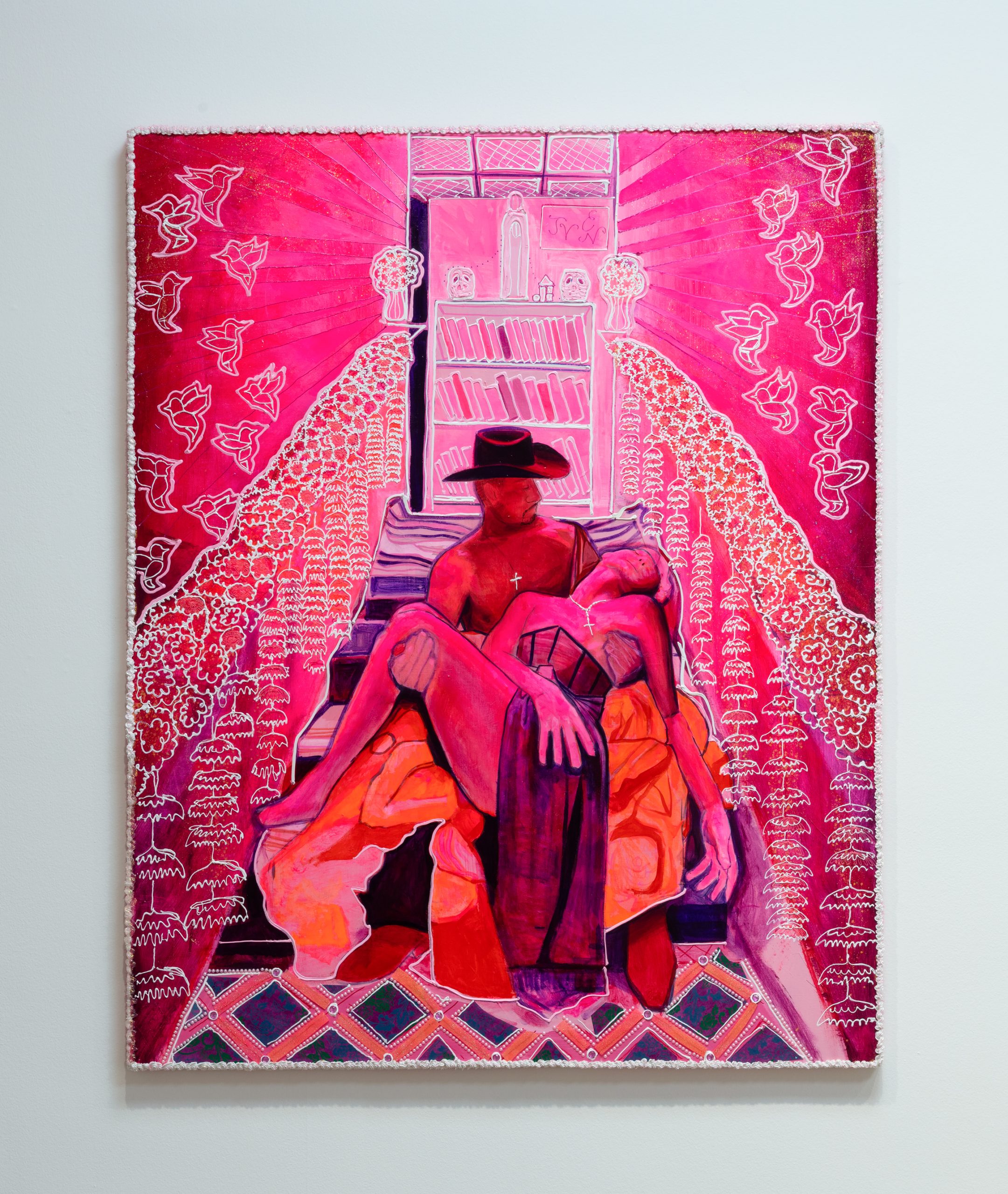 The Legend of the Cempasuchil Flower
, 2022
Acrylic, polylatic acid, pouring medium, molding paste, rhinestones, glitter, paper collage, caulk, clear caulk, marker, inks, loose glitter, canvas
60h x 48w inches
Enrique Nevárez is a multidisciplinary artist who incorporates a wide range of mediums and methods in his paintings/sculptures. Nevárez earned his B.F.A. from the University of Texas At Arlington in 2019 , and is a current M.F.A. student at Texas Christian University in Fort Worth. Largely autobiographical in nature, his work explores topics in contemplation of the male gaze, gender, cultural heritage and identity. His use of unconventional material stemming from Folklore invites the viewer to see through a fantastical lens of celebratory narrative in Latinx/Chicano culture.
Nevarez has participated in numerous solo and group exhibitions, including Momentos, 500X Gallery, Dallas, TX (2022); ART214, Latino Cultural Center, Dallas, TX (2022); and The Crit Room, Oak Cliff Cultural Center, Dallas, TX (2020).