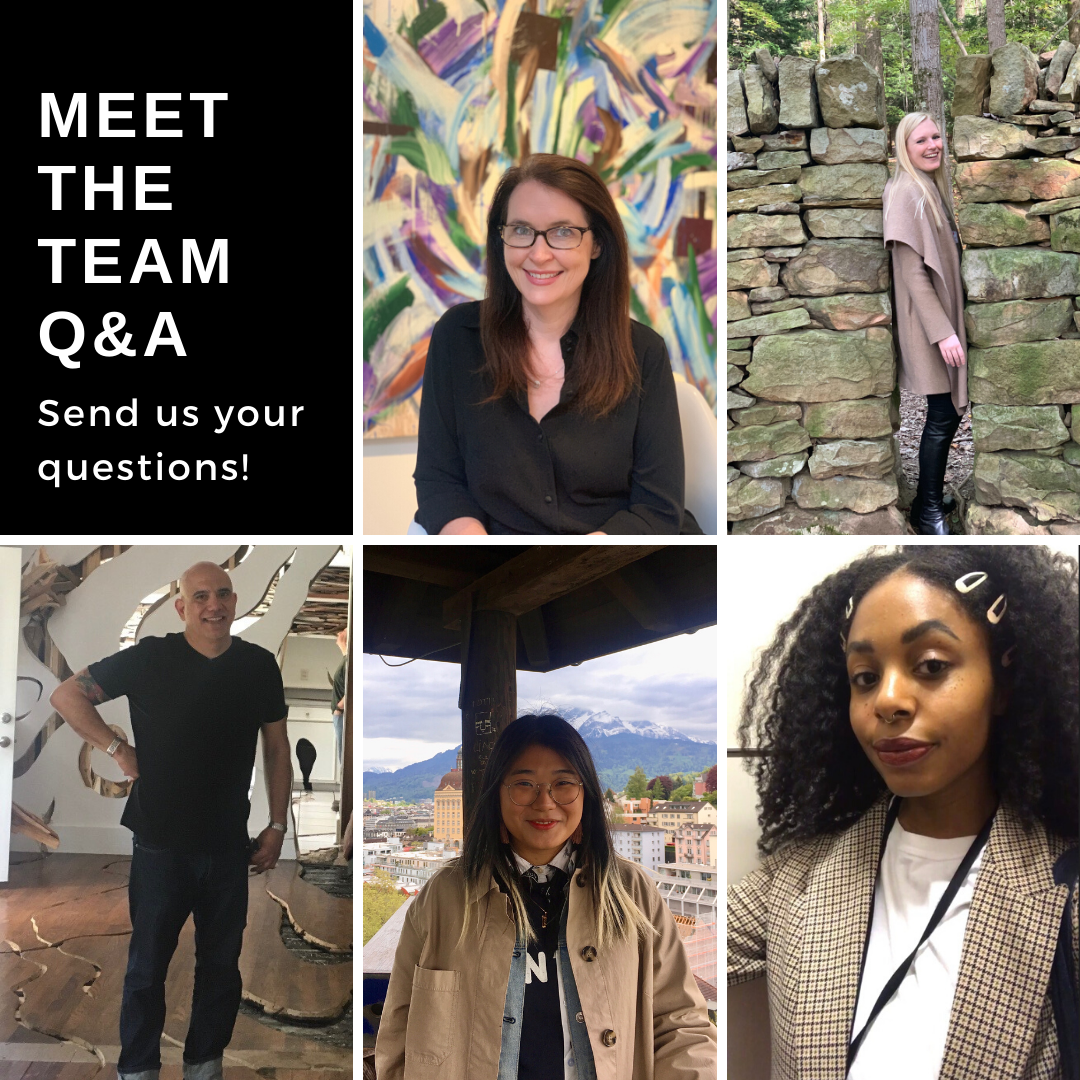 Meet our team!
Talley: Owner/Founder + Visionary Leader
Loving: I'm super excited to be working with an amazing team at the Carnegie Museum of Art on a community based project with Margarita Cabrera set for this fall.
Seeing: Just three weeks ago, I saw the extraordinary exhibition "Think of Them as Spaces: Brice Marden's Drawings" at the Menil Drawing Institute.
Meredith:  CFO + Voice of Reason
Loving: I'm looking forward to Natasha Bowdoin's exhibition coming up at the Amon Carter Museum of American Art, it will include new works as well as a site specific installation!
Seeing: One of my last trips before the pandemic was to New York, and I loved Philip Pearlstein's exhibition at Betty Cuningham Gallery.
Trini: COO + Creative Vision
Loving: Having met Pia Fries a few months ago to discuss a future project with the gallery, I am very excited to be working with her on an upcoming exhibition of new works on paper & paintings from her studio in Dusseldorf.
Seeing: When I was in Los Angeles earlier this year for Leonardo Drew's spectacular installation at The Hammer Museum, I was captivated by Ja'Tovia Gary's 16mm film "The Giverny Suite."
Kim: PR Coordinator. I write all of the interpretive text for exhibitions and most of what comes out of the gallery excluding social media.
Loving: I'm really excited to see what develops with the Anila Agha project that will soon be installed at the Amon Carter.
Seeing: I've been working my way through Kenneth Liu's The Paper Menagerie and Other Stories collection.
Ari: Social Media and Events Coordinator. I'm responsible for all social media content, and organizing gallery events, like talks and openings. 
Loving: I'm super excited about Cynthia Mulcahy's field guide project. It's so cool to learn more about not only Dallas' natural life, but it's important social history as well. Plus, I love Mulcahy's watercolors!
Seeing: I recently finished All About Love by bell hooks and it has changed my life!
We want to connect with you! The TDG team is doing a Q&A Wednesday, April 22. Email us your questions at info@talleydunn.com.