The Estate of Joseph Glasco
Joseph Glasco (b. 1925, Paul's Valley, Oklahoma) grew up in Tyler, Texas. After beginning his studies at The University of Texas at Austin, the artist was drafted for service during World War II.  After the war, Glasco lived in Dallas for a time and drew advertisements for the Dreyfuss Department Store before continuing his study of painting in Los Angeles and Mexico.  In 1949, he moved to New York and attended the Art Students' League, where he studied with George Grosz. His friendship with the collector Alphonso Ossorio introduced him to several major artists of the time, including Jackson Pollock and Jean Dubuffet. Glasco quickly became an active participant in New York's gay artistic and literary circles.
In 1952, Glasco was invited to participate in a groundbreaking exhibition organized by the Museum of Modern Art titled Fifteen Americans. The exhibition also featured the work of William Baziotes, Jackson Pollock, Mark Rothko, and Clyfford Still.  Recognized as a skilled painter with unique vision at an early age, Glasco became the youngest artist at that time to be included in the permanent collection of the Museum of Modern Art in New York when the institution acquired one of his drawings in 1949.
Glasco's early work featured stylized representational forms, which in later decades shifted to a heavily patterned, geometric approach to the figure. In the late seventies, Glasco left figural work behind to explore abstract collage paintings. For the last decade of his life, Glasco lived and painted in Galveston. Works by Glasco are included in the permanent collections of the Hirshhorn Museum and Sculpture Garden in Washington, DC; the Museum of Modern Art, New York; the Solomon R. Guggenheim Museum; the Whitney Museum of American Art; the Metropolitan Museum of Art; and the Museum of Fine Arts, Houston.
On-site and Individual Works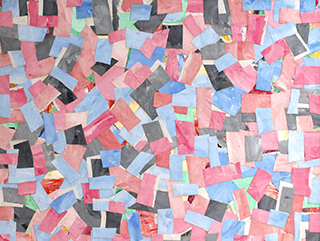 Bold Lines: Works by Joseph Glasco
Tyler Museum of Art, Texas
November 24, 2019 – February 16, 2020
East End Echoes
Pollock-Krasner House and Study Center, East Hampton, New York
May 2 – July 27, 2019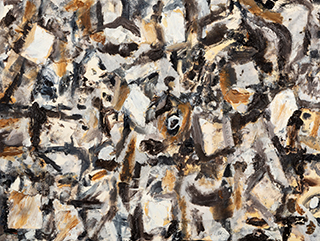 "Rediscovering Ab-Ex Artist Joseph Glasco in rapport with Pollock, Schnabel & Ossorio" 
by Franklin Hill Perrell
July 18, 2019